Jim Guttmann's Bessarabian Breakdown
Jim Guttmann: Bass; Ted Casher, Alex Kontorovich, Billy Novick: clarinet; Joel Springer: tenor sax; Tom Hall: baritone sax; Mark Berney, Frank London: cornet & trumpet; Mark Hamilton, Dave Harris: trombone; Mimi Rabson: violin; Brandon Seabrook: guitar & mandolin; Binney Stone: guitar; Evan Harlan: accordion; Art Bailey: Piano Grant Smith: drums & percussion; Ernesto Diaz: percussion; Manolo Maneira: coro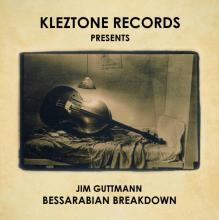 "On 'Bessarabian Breakdown,' Jim Guttmann has assembled an all-star cast of klezmer talent that brings back that wonderful sense of rediscovering a warm, familiar friend infusing the best of the klezmer revival-era recordings of the 1970s and '80s. These virtuosos also explore the affinity among klezmer, Latin and world rhythms with convincing authenticity and integrity." -----Seth Rogovoy, author, "The Essential Klezmer: A Music Lover's Guide to Jewish Roots and Soul Music"
"Fans of the Klezmer Conservatory Band will immediately recognize the sound and feel of founding bassist Jim Guttmann playing from deep within his wheelhouse the kind of repertoire he has interpreted -- and made his own -- over the years." -----Henry Sapoznik,, Director, The Mayrent Institute for Yiddish Culture, University of Wisconsin, Madison
"Those of us who know Jim Guttmann, musically and personally, can only expect top quality ineverything he does. His newest CD, featuring himself and many of the foremost players in thefield, satisfies in every way. From traditional klez to funk and Mingus Ah-Um, it's all there ---the stuff is here, and it's mellow!!" -----Pete "Klezmer Fats" Sokolow, musician extraordinaire
"Jim Guttmann takes on the Jewish and Klezmer repertory with abundant humor, passion, and a refreshing dose of over-the-top rowdiness." -----Dr. Hankus Netsky, Founder and Artistic Director, Klezmer Conservatory Band, Chair, Contemporary Improvisation, New England Conservatory of Music
"Bassist Jim Guttmann circles the gypsy wagons, gathers his musical landsmen, gives a strong upbeat, and shazam! -- away they swirl, with a clamorous clutch of klezmer, 'sving', hora, frehlekhs, bulgar, and other exuberantly footwarming strains from East of Berlin and South of Moscow… L'chaim, dancers!" ----- Fred Bouchard writes about music for Downbeat Magazine, All About Jazz, and the Boston Music Intelligencer.
"A joyful collection of 11 tunes ranging from "Philadelphia Sher," a traditional Jewish dance tune featuring raucous New Orleans Mardi Gras abandon by a horn-heavy 10-piece ensemble, to Guttmann's unaccompanied solo version of Naftule Brandwein's 'Firn Di Mekhutonim Aheym.'" —Jazziz Magazine
"Surely Bessarabian Breakdown is a contender for one of 2010's most interesting albums.…Guttmann puts such an original stamp on this music that he virtually makes it all his own. With firm and authoritative accents from his bass and superbly original arrangements (from) pianist Art Bailey, clarinetists—among them Alex Kontorovich—and trumpeters, who shine in the band that Guttmann fronts, this album swings brightly and sobs eloquently when it must." — Raul d'Gama Rose, All About Jazz
"While klezmer music dominates, Guttmann also incorporates such influences as swing, Latin jazz, bebop and traditional Middle Eastern music… (and) surrounds himself with a stellar set of musicians… The heart of this captivating album, however, is the heartbeat bass playing of Jim Guttmann." — Michael Regenstreif, Sing Out
"Since the early days of the klezmer revival, guys like these have been putting a new spin on haunting, mournful old ideas: Guttmann's are especially imaginative and playful. The melodies still resonate, but the good time the band is having is contagious – you can actually dance to a lot of this." — delarue, Lucid Culture
"Veteran jazz and klezmer bassist Jim Guttmann and his excellent band bring a more evolved sensibility to the eclectic on Bessarabian Breakdown. The album is rooted in part but never anchored in klezmer, a genre Guttmann explores with great feeling and understanding… Bessarabian Breakdown doesn't just circle around a lot of great music, but nails every note." — David Luhrssen, Milwaukee Express
"Guttmann's sharp bass lines set the rhythm and tone on the title number, which combines the jauntiness of the Eastern European bulgar… and the soul and R&B blend of funk." — Jules Becker, Jewish Advocate
"Guttmann's playing is exquisite in every genre he performs on the album and his all-star band is also excellent. You don't have to be Jewish or a fan of klezmer to enjoy this album." —Barry Bassis, Town & Village