Biography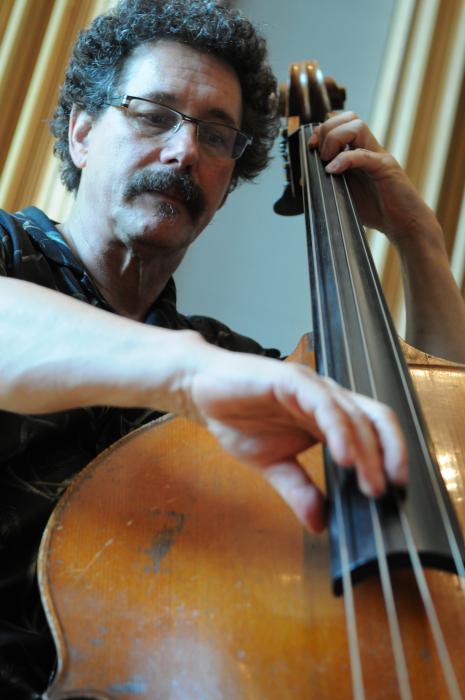 From Carnegie Hall to smoky dives, from Amsterdam's Concertgebouw to the legendary folk music venue Club Passim in Cambridge, Massachusetts, bassist Jim Guttmann has played everything from klezmer to classical — and most styles in between. In a remarkable career spanning more than 30 years, he's performed with a myriad of groups including the Klezmer Conservatory Band, singers Eartha Kitt and Mark Murphy, the Really Eclectic String Quartet, blues masters Johnny Shines and James Cotton, the Boston Philharmonic Orchestra, Texas swing legend Tiny Moore, new acoustic music guitar virtuoso Russ Barenberg, the Artie Shaw Orchestra, and many more. Whether he's swinging a jazz tune, holding down the clave rhythm in an Afro-Cuban song, or nailing a lively sirba with a klezmer band, Guttmann plays with great warmth, sophistication, and flawless time.
A native New Yorker, Guttmann played electric bass in rock bands while studying psychology at Adelphi University. After moving to Boston in 1970 to earn a Master's degree in Mass Communications from Emerson College, he switched to string bass and entered the busy Boston-area blues, jazz, bluegrass, and new acoustic music scene. The recipient of a National Endowment for the Arts grant to study the arco solo tradition in jazz bass playing, Guttmann has studied performance with Boston Symphony Orchestra principle bassist Edwin Barker and jazz bassist Dave Holland, harmony with Richard Cornell, and techniques for improvisation with Charlie Banacos.
As a member of eclectic bluegrass quartet Cheap Trills from 1975 to 1979, he worked with like-minded string players whose performances included everything from Charlie Parker's "Yardbird Suite" and Mongo Santamaria's "Afro Blue" to traditional Appalachian tunes and Texas waltzes. He was a regular on the jazz scene, as well, sitting in with the Boston edition of Jaki Byard's Apollo Stompers on many occasions. He also performed regularly with the Boston Philharmonic Orchestra until the mid-1980s.
In 1980, New England Conservatory's Hankus Netsky asked Guttmann to join a new group he was organizing, the Klezmer Conservatory Band (KCB). The KCB was almost single-handedly responsible for launching the modern klezmer music revival. Guttmann has remained with the group ever since, appearing on all ten of their recordings; touring Europe, Australia, and America; and performing and recording with Joel Grey and Itzhak Perlman. He also performs in klezmer ensembles with Andy Statman and Frank London, and in Alicia Svigals' Klezmer Fiddle Express. In addition, he is a member of the Grammy-winning ensemble featured on Yehudi Wyner's "The Mirror," a klezmer influenced chamber work released on the Naxos label.
In the early '80s, Guttmann was also a founding member of violinist Mimi Rabson's Really Eclectic String Quartet (RESQ), whose members have also included violinists Joel Smirnoff (who left Boston to join the Julliard String Quartet) and Matt Glaser. The band's repertoire lives up to its name and includes traditional Eastern European tunes, originals, Texas swing, Afro-Cuban, and even the garage rock classic, "Louie Louie." He appears on their self-titled 1992 debut CD released on Northeastern Records and on their second release, To the RESQ (Meemz Music, 1998). Guttmann was musical director for Boston-area vocalist Wanetta Jackson's tribute to Aretha Franklin presented first at the 1986 Tufts Jazz Festival and again, in 1989, at the Charles Playhouse. The Boston Herald called the eight-piece band led by Guttmann "as unabashed pleasure" and "tight, brassy, and bright."
In 2010, Guttmann released Bessarabian Breakdown, his first CD as a leader on Kleztone Records. Surrounding himself with current and former members of the KCB, as well as friends from throughout his career, he leads various ensembles through a program that reflects his many interests. The album features straight-ahead celebratory klezmer, as well as fusions of klezmer with different jazz styles, R&B, Afro-Cuban music, and other unexpected but danceable, hybrids. "Basically, I wanted to include everything I love about what I've done over the past 30 years," he says.